Price

RM31.00

Product SKU
9555730900546_EN_LaundryDetergent_950ML_1PK
Brand
En-Nature
Size (L x W x H)
25 cm x 23 cm x 20 cm
Availability
57
Quantity
Description
Highlight
产品特色:采用植物原料,抗菌剂,酸碱平衡和生物可降解配方适合所有类型的布料,但却能呵护双手和皮肤,保护环境和节约水源。100% 天然精油,不含人造香精和色素不含磷、氯,、对羟基苯甲酸酯类和硫酸盐性质温和,不会影响衣服的布料和颜色。有效杀除99%以上的细菌,使衣服更加卫生可去除顽固污渍及臭味,让衣服散发自然清香节约水源,保护环境。 《请填写·数量》
Product Feature: Our Laundry Detergent formulas are plant-based, non-toxic, pH balance, anti-bacterial agent & biodegradable formula is suitable for all types of fabrics, gentle to your skin and planet and save water. 100% Natural essential oil. No synthetic perfume and colorant. Free from chlorince, phosphate, parabens and sulfates.The mild nature does not affect the fabric of clothes and colors. It can effectively kill 99.99% of bacteria, remove stubborn stains and odor, make your clothes more hygienic. The Lavender Essential Oil keep your clothes natural fragrance. (Please write down your quantity)
Features & Benefits:
Made with plant-based ingredients, anti-bacterial agent, non-toxic, pH balance & biodegradable formula is suitable for all types of fabrics, gentle to the skin and planet and save water.
100% Natural essential oil.
No synthetic perfume and colorant.
Free from chlorine, phosphate, parabens and sulfates.
The mild nature does not affect the fabric of clothes aand colors.
Effectively kill 99.9% of bacteria, making clothes more hygenic.
Remove stubborn stains and odor, let the clothes release natural fragrance.
Save water consumption and protect the environment.
Ingredients:
Purified water, vegetable-based cleaning surfactants (derived from coconut/palm oil), acetic acid, citric acid, mild preservatives (food grade), lavender essential oil.
Direction of use:
Measurement: 1 cap = 15ml Hand wash (5 liters of water) - half bottle cap / 7.5ml Machine wash - medium load - half bottle cap / 7.5ml Machine wash - maximum load capacity - 1 bottle cap / 15ml
Net weight: 950ml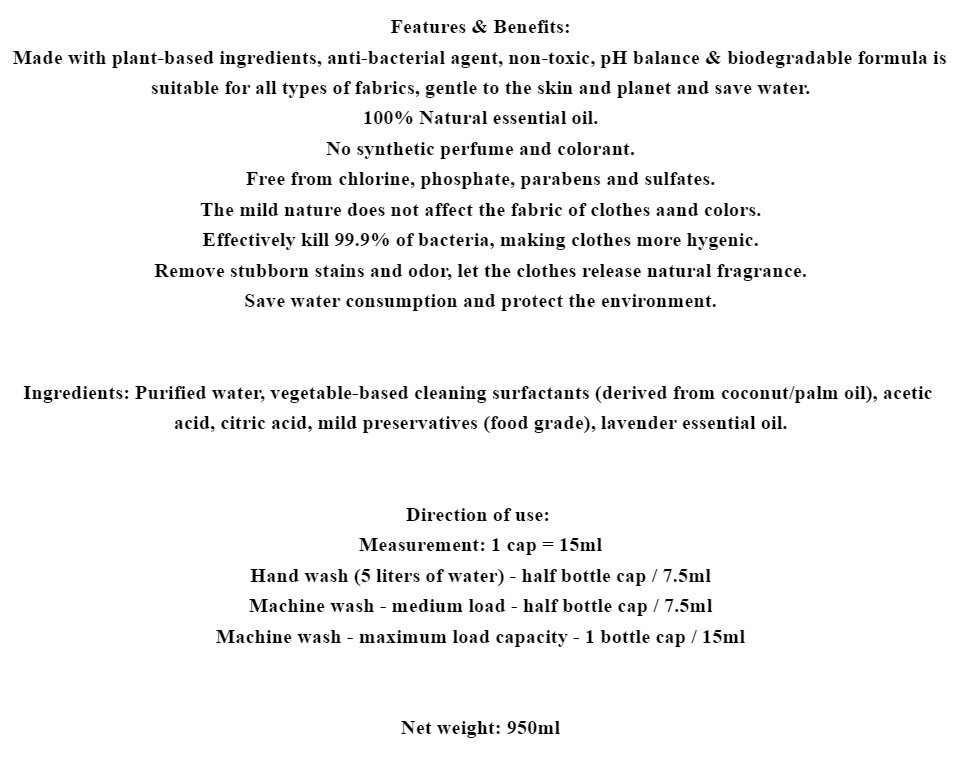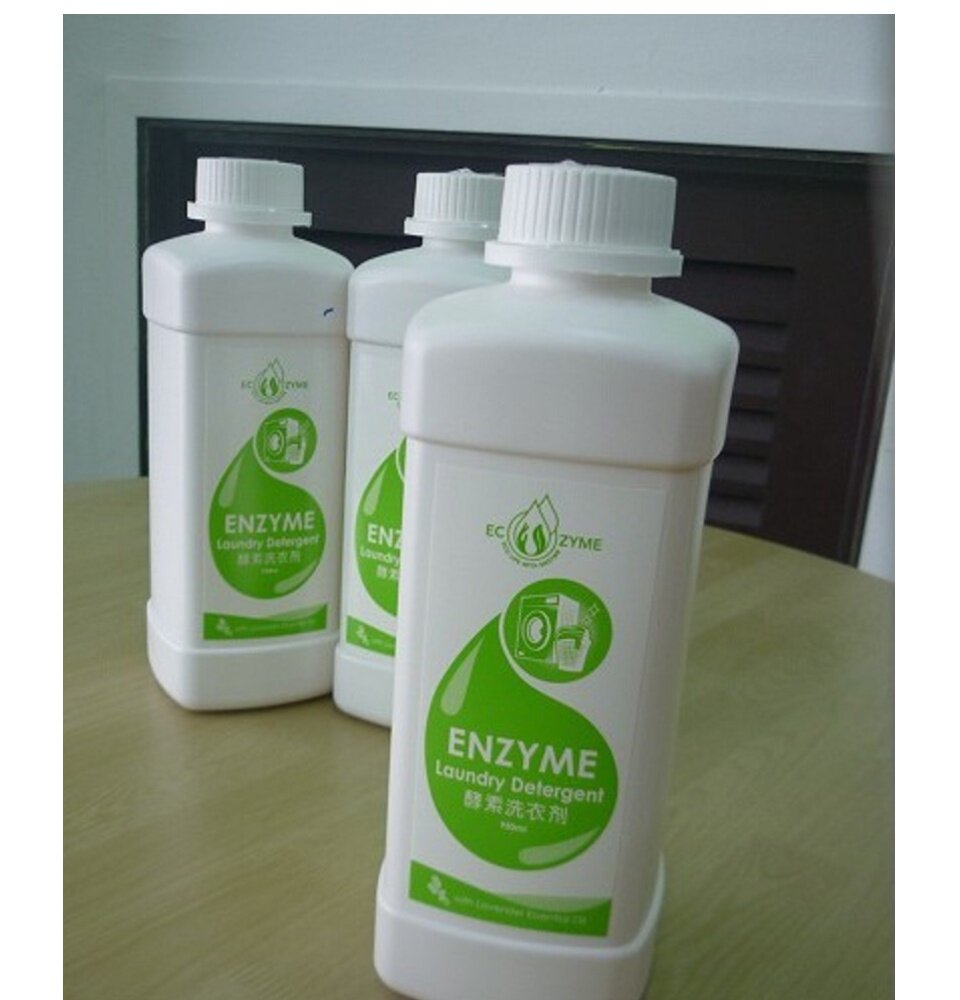 Reviews (0)
view all
back
What's in the box
Ecozyme Enzyme Laundry Detergent 950ML